Newer posts are loading.

You are at the newest post.
Click here
to check if anything new just came in.
Are You Ready for Your Vacation this Summer?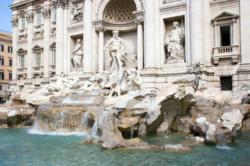 Trevi Fountain, Rome, Italy
Most popular land destinations include Italy, France, Spain, United Kingdom, Mexico, Hawaii, and the Dominican Republic.
What are the top factors fueling your desire to get away with family this summer? According to a recently released survey of travel agency members from Ensemble Travel Group in the U.S. and Canada - including Montrose Travel, among Ensemble?s top 25 agencies - consumers are looking for reduced price and travel cost, while still accomplishing a sense of togetherness. Significant growth has been reported in the multi-generational travel segment as consumers request family getaways that extend beyond the immediate and incorporate grandparents, aunts and uncles, cousins, and friends.
While ?desire to spend quality time together as a family? was the No. 1 factor that influenced the purchasing decisions of Ensemble agency members? family travel clients this summer, ?taking advantage of special pricing? was also among the top responses in this category.
?We can help families of all shapes and sizes find a vacation they can afford through our travel expertise and connections to hard-to-get rates and offers.? said Pat Ford, Personal Vacation Planner at Montrose Travel. ?Regardless of the prevailing economy, when it comes to what is most important to travelers, especially those travelling with extended family, spending quality time together ranks highest with best value not far behind.?
When asked about travel spend per booking, 41 percent of the Ensemble survey respondents said their family travel bookings ranged from $5,000 to $9,999, with another 27 percent falling in the $10,000 to $19,999 range, and another 16 percent from $20,000 to $29,999. Eleven percent reported the average family travel booking at more than $40,000. Another five percent answered either under $5,000 or between $30,000-$39,999.
In other survey results, all-inclusive resorts were the most popular type of summer vacation for the family and multigenerational markets, followed closely by cruises. The majority of family travel bookings are for 7-10 days, with most popular land destinations including Italy, France, Spain, United Kingdom, Mexico, Hawaii, and the Dominican Republic.
The findings are part of ?Ensemble Insights: 2013 Summer Family Travel,? a new survey by the organization that analyzes booking trends and activity of a cross section of its North American membership during the peak travel season of June through August. For this survey, ?family travel? was defined as parent(s) with children ages 18 and younger traveling together during the three-month period. The survey reflects input from more than 250 Ensemble Travel Group travel agents, managers, and owners in the U.S. and Canada, representing a cross-section of business models and customer databases.
ABOUT MONTROSE TRAVEL
Celebrating 56 years in business, Montrose Travel, a family-owned travel management company, has grown from 14 employees in 1990 to more than 150 today and is now firmly established as a Top 50 Travel Management Company and a Top 5 Host Agency nationwide at $160+ million in sales. Montrose Travel strives to provide the highest quality services and most complete vacation, corporate travel, loyalty and group travel management solutions for its customers and home-based travel agents. Montrose Travel "will be here tomorrow to back up our promises of today!" Montrose Travel can be reached at 1-800-MONTROSE (666-8767) or by visiting http://www.montrosetravel.com. Visit Montrose Travel's Corporate Division at http://www.montrosecorporatetravel.com or call 1-800-766-4687. Home-based independent travel professionals may visit http://www.MTravel.com, email epeters(at)montrosetravel(dot)com, or call 1-800-870-5799. CST#1018299-10
ABOUT ENSEMBLE TRAVEL GROUP
Ensemble Travel® Group, established in 1968, is an elite circle of professional travel agencies in the U.S. and Canada that offer their clients expertise and insider connections in nearly every type of vacation experience available. Preferred partners include premier cruise lines, tour companies, on-site destination specialists, and hotels and resorts around the world, in addition to a number of boutique suppliers and private-label travel programs. Travel agencies affiliated with Ensemble Travel Group offer special amenities and authentic travel opportunities, many of which may only be available through an Ensemble Travel Group member agency.
For the original version including any supplementary images or video, visit
http://www.prweb.com/releases/2013/6/prweb10869451.htm